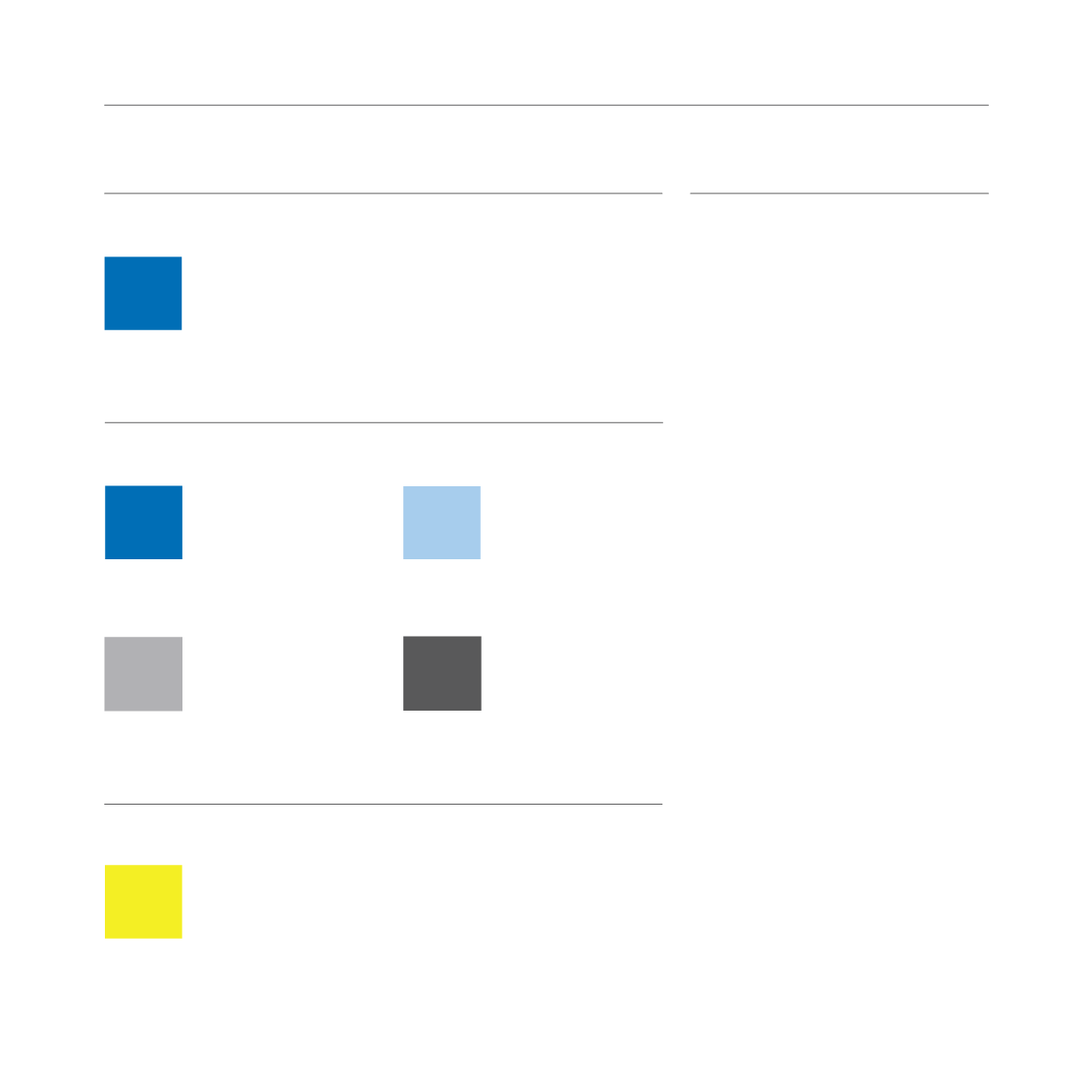 C
M
Y
K
PANTONE REFERENCE
WEB REFERENCE
R
G
B
C
M
Y
K
C
M
Y
K
PANTONE REFERENCE
WEB REFERENCE
PANTONE REFERENCE
WEB REFERENCE
R
G
B
R
G
B
P R I M A R Y C O L O U R S
C O R P O R A T E C O L O U R
C
M
Y
K
C
M
Y
K
PANTONE REFERENCE
WEB REFERENCE
PANTONE REFERENCE
WEB REFERENCE
R
G
B
R
G
B
S E C O N D A R Y C O L O U R
This palette of corporate colours has
been designed to complement the
new brand identity and facilitate all
The corporate colour is the base for
both the primary and secondary logo
and the starting point for "the wave".
It is your "go to" colour.
The primary palette consists of the
corporate colour and the finishing
colour of the wave. The suggested
usage is for the "corporate colour"
to be used for titles and type 1
headings and for the second colour
from the primary palette to be used
for sub headings or "call-outs".
The accompanying greys are to
be used for text on and offline and
as complementary colours to be
used alongside the stronger, more
For printed documents care should
be taken when using the light grey for
small copy. We recommend using the
darker grey in these instances.
The secondary palette is designed to
be a complementary accessory to the
primary palette and should be used
sparingly to add interest or emphasis
to a particular feature or detail.
C
M
Y
K
PANTONE REFERENCE
WEB REFERENCE
R
G
B